Are you in a new city or home, and your water just isn't "right"? Or are you simply fed up with spotty dishes, dry skin or recurring issues with your appliances? If you answered "yes" to any of these questions, there's a good chance that you're part of the 85% of Americans living in a hard water zone. And despite such a prevalent problem, only 30% of those hard water residents own a water softener.
If you're ready to eliminate your hard water problem, the best place to start is by testing your water. Knowing your water's hardness and composition will help you find the best solution for your home. Here are the ways you can learn more about your water:
Check with your city
Review your yearly consumer confidence report. This is usually sent by July 1 from your water supplier and it details where your water comes from and what's in it. If you don't receive your report by this time, call your water supplier and have it sent to you.

Contact your local water municipality if the water hardness level is not indicated in the annual report.
In-home test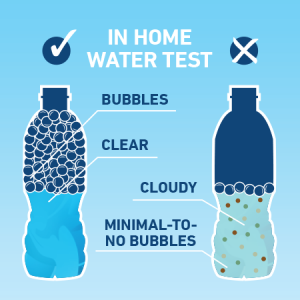 Fill a clean water bottle one-third full with cool water from your bathroom tap. Add a few drops of a basic soap, like Castile, which
is free of dyes, perfumes and detergents.
Shake the bottle vigorously for a few seconds. Cloudy and/or milky water that lacks fluffy bubbles indicates a hard water problem (soft water should be clear and have an abundance of bubbles).

Most soaps are formulated with detergents to make them lather despite the presence of hard water. A basic soap gives a more accurate in-home test result.
Advanced options
You can purchase hard water test strips and/or comprehensive hard water test kits from any major home improvement store or through an online retailer. The test kits cost between $5 and $20. The types of tests can vary from manufacturer to manufacturer, and in addition to hardness, they may test for alkalinity, chlorine, iron, nitrates and/or pH.

Instead of heading to the store, you can also request a free hard water test strip and learn your hard water number.

Alternatively, you can send a water sample to a third-party lab for the most thorough water analysis.

This is often unnecessary, as in-home tests provide instant information and results for most water issues.
Put your number to work
If you've tested your water with a strip or kit, the next step is to use your number to find the right softener for your home. To receive a water softener recommendation, use our easy, step-by-step tool. After answering a few basic questions about your home water use along with your hard water number, you'll see which water treatment solution is ideal for you.